Join the Legendary Mustangs at the Fender Center this New Year's Eve for a great time.  Proceeds benefit the Kids Rock Free Music Education program.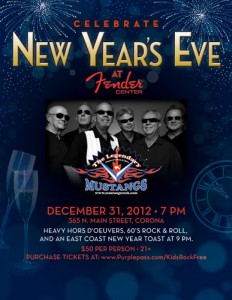 December 31st at 7 pm
$50 per person
www.purplepass.com/KidsRockFree
http://www.pe.com/local-news/riverside-county/corona/corona-headlines-index/20121212-corona-new-years-eve-music-education-benefit-set.eces
Join the Legendary Mustangs at The Morongo Casino on 6/21/12 from  9:00 to 11:00. The public can attend at no charge.
Rock in the Summer with the Legendary Mustangs at the Fender Rhythm Lounge on June 23rd, 2012.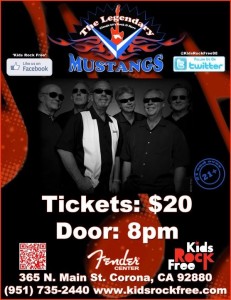 Join the Mustangs on New Years Eve, Dec 2010 in the Rhythm Lounge at the Fender Center in Corona, California.  Doors open at 7 pm. We will rock in the New Year with New York City at 9 pm.  Admission is $50 per person. Includes dancing to the Legendary Mustangs, Raffles, Finger Foods and Party Favors.  Ages 21+  call 951-753-2440 for reservations.  or order online at www.fendercenter.org. Proceeds to Kids Rock Free.